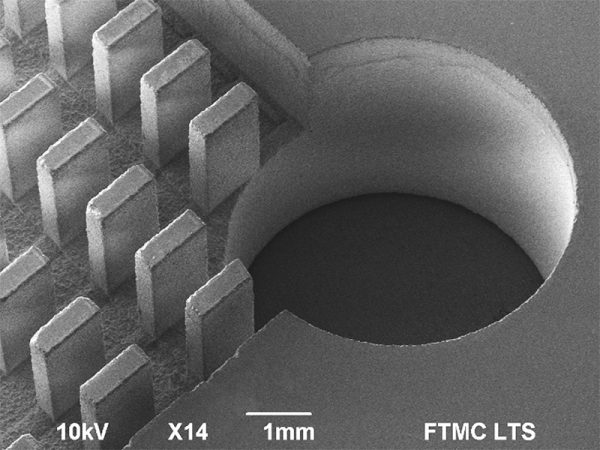 Laser milling

The glass is an important engineering material for a number of different applications. Laser machining of transparent materials, such as flat glass, is a fast growing market, driven by new developments in displays, optoelectronics and medical device technology. Conventional glass processing techniques such as diamond drilling and dicing, water-jet drilling, sand blasting or ultrasonic processing are still commonly used in mass production, although limitations of these techniques in flexibility, processing speed and quality require a search for novel technological solutions. Laser-based techniques such as rear side glass processing can offer high quality and throughput, which can be used for glass drilling, cutting and milling applications. Typical kerf widths with such technique can be extremely reduced compared to mechanical diamond tool processing. Therefore, laser milled feature sizes can be reduced to 150 µm. Furthermore, laser cuts are taper–less, therefore, extremely high aspect ratio features can be fabricated. Glass surface chipping during processing is another important issue. However, laser-based processing with Atlantic series picosecond laser can maintain high throughput with the highest processing quality keeping surface chipping bellow 100 µm.
Materials: soda lime glass (SLG), fused silica, BK7 glass, borosilicate glass;
Quality: Surface chipping <100 µm, sidewall roughness <2 µm;
Cutting throughput: 0.6 m/min (1 mm SLG glass), 0.12 m/min (5 mm SLG glass);
Via drilling Ø 0.2-1 mm: 1 s/via (1 mm SLG), 5 s/via (5 mm SLG);
Material removal rate: 90 mm3/min.